The role of sophisticated British Agent James Bond has been played by several different actors throughout time. Given his original suave character by Sean Connery and incredible strength of character through Roger Moore and Pierce Brosnan, and some good attempts by George Lazenby and Timothy Dalton, 007 has always excited millions of fans with his British gentleman's flair. Hats off to Connery, Lazenby, Moore, Dalton, and Brosnan.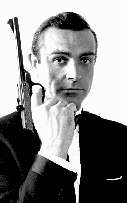 Sean Connery was born on August 25, 1930 in Edinburgh, Scotland. He was born into a poor class as his father was a truck driver. He served in the Royal Navy after finishing school and among other jobs worked as a laborer, lifeguard, and art model. He even represented Scotland in the 1953 Mr. Universe contest and placed third. Afterwards Connery appeared in several stage productions and then in 1956 made his first television appearance. Later that decade, Connery signed a contract with MGM and was cast in several film roles. His first role as Agent 007 was in Dr. No, the first Bond movie, produced in 1962. Even at this early stage of Bond was Roger Moore competing for the part, but getting beat by Connery. The success of Dr. No led to three more Bond films during the ensuing five years. Connery quit the role of Bond after "You Only Live Twice " wanting to spend more time with his family and other activities. Still, MGM managed to get Connery back for "Diamonds are Forever". Connery declared that he had played Bond for the last time; however, he returned to his final role as Bond in "Never Say Never Again."

James Bond Films Starring Sean Connery

Dr. No 1962

From Russia With Love 1962

Goldfinger 1964

Thunderball 1965

You Only Live Twice 1967

Diamonds are Forever 1971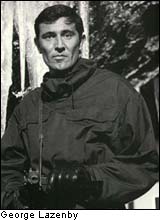 George Lazenby was born September 5, 1939 in the town of Goulbourn, Australia. He arrived in Britain and worked his way up the world of modeling. With little to no acting experience he auditioned for the part of James Bond in 1969. Lazenby played Bond in one and only one movie, On Her Majesty's Secret Service. However, Lazenby could not live up to Connery's standards. Still, Lazenby's lack of experience didn't show in his good attempt at filling Connery's shoes. Afterwards, Lazenby acted in some television movies and in the early 90s had some small parts in the popular movies.

James Bond Films Starring George Lazenby
On Her Majesty's Secret Service 1969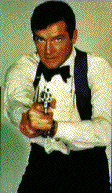 Roger George moore was born on October 14, 1927 in London. His father was a policeman. Moore entered art school in order to become a painter, but found himself later as an animator's apprentice. During the middle of the 1940s, Moore was acting as an extra in crowd scenes. The British Army was his home later and he rose to 2nd Lieutenant's rank in Germany. He worked in theatre, radio, and television after his military stint as well as a model and salesman. In 1953 Moore arrived in the United States and got a film contract with MGM. Moore found himself playing supporting roles in films; however, he had success in a TV series called Ivanhoe and later in Maverick. Roger Moore also got the role of Simon Templar in the television series The Saint and that's where he became famous. In 1972, Sean Connery declared his career as Agent 007 finished and Roger Moore was hired to star in the next Bond movie, Live and Let Die. Since that time, Moore has acted here and there and attended charitable events.

James Bond Films Starring Roger Moore
Live and Let Die 1973
the Man with the Golden Gun 1974
The Spy Who Loved Me 1977
Moonraker 1979
For Your Eyes Only 1981
Octopussy 1983
A View to a Kill 1985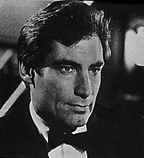 Timothy Dalton was born on March 21, 1944 in Colwyn Bay, Wales. His youth was spent in Manchester, england and had a family history of show business, as his grandfather was in the industry. Dalton joined the National Youth Theatre after leaving school and spent 3 summers there. Afterwards he attended the Royal Academy of Dramatic Art for 2 years. This culminated his joining of the Birmingham Repertory Theatre in 1966 where he had several lead roles. Timothy Dalton filled the shoes of James Bond in 1986 because Pierce Brosnan had a previous contract and could not get out to play Bond. The two films Dalton starred in were The Living Daylights and License to Kill. After several years of delay on a new Bond film, Dalton officially resigned the role in 1994. That role then went to Pierce Brosnan.

James Bond Films Starring Timothy Dalton
The Living Daylights 1987
License to Kill 1989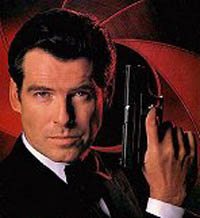 Pierce Brosnan was born on May 16, 1953 in Navan, County Meath, Ireland. Surprisingly, Brosnan entered the movie industry as a runaway; one of his odder jobs was working with the circus as a fire eater. He had a more conventional acting experience as part of a London theater workshop. His first stage appearance was in 1976 with the production of Wait Until Dark. Later, the famouse Tennessee Williams chose Brosnan to fill the role of McCabe in Williams' play, Red Devil Battery Sign. The United States appearance of Brosnan came in 1981 on the television miniseries The Mansions of America. Brosnan held a shaky job as television offered on and off work in television movies and miniseries. Pierce Brosnan adopted the role of Agent 007 on June 8, 1994 after Timothy Dalton gave up the part. Brosnan gave Bond a new character with more charm and less risk mentality. Brosnan gives the character a lighter side which is easy for Brosnan who has a fast mind and can quip very easily. Pierce Brosnan starred in the next Bond movie, Goldeneye which grossed over $350 million worldwide, the most of any of the James Bond films. Brosnan also starred in Tomorrow Never Dies which was hailed as the greatest Bond film of all time.

Goldeneye 1995

Tomorrow Never Dies 1997
The World Is Not Enough 1999